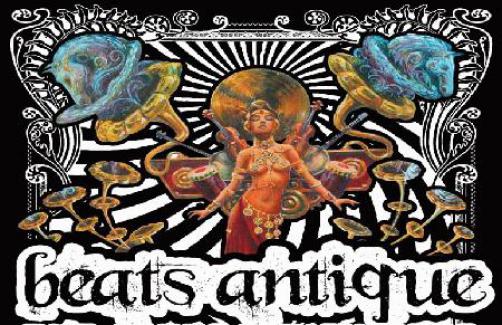 With an incredible live performance that is too extravagant and breathtaking to put into words, Beats Antique sent the forest off with an unforgettable farewell as they played at the end of the magical time at Electric Forest. More than just music, BA puts on a show that truly encompasses the brilliant intertwining performance of music and live entertainment; elevating the mind, body, and soul into a performance too intense to describe but only one to experience.
While at Electric Forest, Electronic Colorado had the great pleasure to speak with member David Satori, whom talked of BA's latest projects, newest music, and next show. Check out their schedule here, and the interview before their performance at Electric Forest below!
ELCO: Hello and welcome to Electronic Colorado with David Satori from Beats Antique!
ELCO: You're visiting Colorado soon, right?
BA: Yea we're going to be at Red Rocks on July 1st.
ELCO: Are you excited?
BA: Ooh super, it's like a dream come true. We've been doing opening spots and have been playing Red Rocks the past four years, so this is a pinnacle moment to headline it and do our own show. We're super honored to share the stage with Shpongle and Alex and Allyson Grey, who I've been a fan of forever.
ELCO: And you guys are doing a benefit for the "The Honey Bee Conversancy" at the Red Rocks show?
BA: Yea we're having part of the ticket sales go towards that, and we have a song called 'Killer Bee' which is a fun song that came out. We realized that we could use that to raise awareness for the bee de-population problem. If you go to our Soundcloud there's a link to that organization that we're working with that is helping us raise awareness, because a lot of bees are dying off and they're the ones that pollinate our foods.
ELCO: Best way to get the word spread, sing it in a song.
BA: Yea!
ELCO: Where is your favorite place you've played?
BA: Red Rocks is one of our favorite places. We've been fortunate to play all over the country and the world now; we've played in Hungary and Australia a bunch, many beautiful places, but I'd say Red Rocks.
ELCO: Do you have some sort of special connections with Colorado?
BA: I would go out there when I was young. I grew up in Vermont as a snowboarder and we would come out to Colorado where my uncle lived; it's a magical place and it's been really cool to see the music scene blow up and grow there.
ELCO: Shadowbox is your newest album; when will that be released?
BA: that will be this fall right before out Shadowbox tour. We're working on it and Killer Bee is a song that will be on it. It's going to be a fun tour and we're really excited about it. We're doing a whole new production based on shadow play, so we'll be doing a lot of extreme lights with shadow screens and Zoe will be doing shadow dancing. We're working with this amazing company called kiddie kozie from Oakland who does these lantern sculptors. So we'll be working with lanterns and lights and really beautiful geometric laser cut lanterns. We're going to be debuting them at Red Rocks actually!
ELCO: Excellent! What had your inspired to do the shadow puppet theme?
BA: We've been influenced by Indonesian music and culture, and one of their oldest forms of theater is shadow puppetry, and they'll do shadow puppetry for 6 hours! From sunset to sunrise in Indonesia and I got to see some of that in Bali. They don't have TV so they had these guys with amazing music and shadow puppetry that's very intricate and was just so inspiring for us. We wanted to have fun with shadows and take it to a modern audience with a technology twist.
ELCO: Do you travel the world and find inspiration in your music from what you see?
BA: Ooh yea definitely. I feel like one of Beats Antiques' missions is to preserve different cultures from around the world and expose people who have never heard Indonesian music or Middle Eastern Gyspy music with a spin on it; which will open the ears of a new generation so the music doesn't go away. Because we think its beautiful music and we just want to share it with people and show how rich the world is with different music.
Check out Killer Bee here as well as David Satori's other band Dirtwire.
Beats Antique returns to Colorado Sept. 30th at the Mishawaka Amphitheatre in Bellvue.